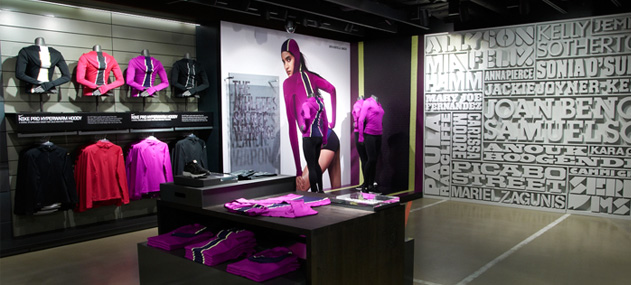 Despite the huge improvements in the design, construction and provision of women's fitness clothing, as well as the sky-high demand for it, women's sportswear remains a relatively untapped market. Nike positions itself as a brand with social purpose, namely to bring inspiration and innovation to every athlete in the world. They have done many high profile campaigns celebrating women athletes, both the famous, and the everyday. Indeed, their brilliantly inclusive claim that "if you have a body, you are an athlete" demonstrates their vocal support of all sportspeople. It was incredibly disappointing therefore to realise recently that this social purpose is not lived and breathed across every brand activation.
At Nike Town Oxford Street, a mecca of sporting and fitness prowess, there is not a single article of women's clothing on show until the fourth floor. Such blatant physical segregation wildly undermines Nike's bold statements about the importance and validation of women's sport. If men's and women's sports are ever to be perceived as truly equivalent they need to be showcased on an equal level. Why not showcase men's and women's products alongside each other? Or to make a real statement, why make a gender distinction at all? Other brands, such as Uniqlo, already practise this ungendered visual merchandising and it puts them well ahead of the curve.
This should act as a cautionary tale for other brands because there are very important but very simple lessons that can be learned. Firstly, the in store experience is crucial to a consumer's perception of a brand and can undo untold amounts of hard communications work because an immersive experience necessarily leaves a greater impression than branding. Secondly, brands must be constantly on the lookout for the ways in which they are becoming outdated as culture subtly and inevitably shifts. And lastly, having a social purpose is not something that a brand can duck in and out of without any backlash. Their purpose must inform every decision the brand makes because in our tightly connected, instant world, people are prepared to call out hypocrisy where they perceive that brand purpose and brand reality do not align.